Norway - Full Moon 196 - 08/31/12

It's a label showdown!
Metronomicon Audio vs. Jester Records - Round 39


Ergo: Mountaineering
  (2009 Metronomicon Audio: MEAU.0039.CD)
vs.
Espen Jørgensen: On the Great Alkali Plains
  (2006 Jester Records TRICK-039)

Welcome to round 39 in the label showdown series between Metronomicon Audio and Jester Records! Since we've more or less totally missed out on reviewing the output of these two great labels, we are going through their entire catalogues, matching the releases from each label consecutively against each other. Humorously counting goals

and giving out yellow

and red

cards, soccer style - but first of all reviewing the music. For more introductory information on this label match, see round 1.
Match preview
Mountaineering is presented in a double fold-out digipack with a booklet with lyrics and art.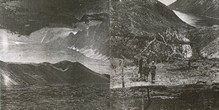 The Espen Jørgensen release comes in a CD digipack.



The match

Marius Ergo's 2006 mini-album debut, Reclaim The Mall!, was a fine, calm and welcome addition to the Metronomicon catalogue. As on the debut, Ergo sings and plays most of the instruments, but of course others from the extended Metronomicon family join in here and there. The opening "Dilettantes And Jew's Harp Players", where Magnus Moriarty™ joins in on violin, is a beautiful melancholy folky ballad. "Mt." is using a more diversified emotional pallette, flowing into dreamy acid folk, its mood is certainly more ethereal, and slightly mysterious

. "Birds On Every Bough" is droning around in small circles with lush keyboards above steady acoustic guitar strings, a nice instrumental interlude. The mood of "Developers! Developers! Developers!" leans a little towards the grey, while "Spring Rag" with its banjos or mandolins is on the calmer side of what I expect from the title, but with a positive and light vibe, which almost lands it in Ry Cooder territory. Some of this is continued in "Bastards! Bastards! Bastards!", while "Yet, They Do Not Sing" does a u-turn into free instrumental experimentation, calm but perhaps somewhat directionless

. "The Butcher's Boy" is Ergo's take on the Irish traditional folk song, a sad and tragic tale which is delivered with suitable intensity

. The short instrumental "River, Convolved" sounds comforting after this, before the album is rounded of with "Different Arms", the longest track here. It partly revisits the dreamlike moods in "Mt.", somewhat Chinese-sounding, and with Kjetil Møster adding a suitable saxophone. The dream dissolves into trickling waters and shimmering organs, a nice ending to the album

.
To sum it up: Mountaineering expands and improves on Ergo's debut. Some of the more traditional sounding folk songs are banjo/mandolin dominated. These are nice, but I like the dreamy and experimental indie-folk songs even better. That said, the opening "Dilettantes And Jew's Harp Players" is damn fine.
If Jester surprised us with the prog/avant/jazz of Anthony Curtis' Book of the Key in the last match, Espen Jørgensen's On The Great Alkali Plains is an even greater surprise. I must admit that I had never heard of this guitar player before. On this album he is playing an acoustic steelstring and an 11 string harp guitar in addition to utilizing field recordings (as far as I can tell). Mostly this is solo playing stated as recorded with no overdubs, only accompanied by sparse percussion from Håkon Mørch Stene and Terje Isungset on "Barren" and "The Woods", in addition to using an echo machine on "Himmelsangen", which is described as "an integral part of the composition". "Barren" was recorded in 2004 at Sofienberg Church, with the percussion tracks added later. All other tracks were recorded at Rainbow Studios in 2006. Most of these have a deep, exquisite sounding and very pleasant reverb

, only "Mirabell" has a dryer sound. I find it hard to believe that "The Woods" is recorded without any overdubs, it sounds as though there are two guitars, but I'm perhaps confused by the panning of the stereo mix. "Himmelsangen" with its echo machine driven dual guitars is intersting, but "Barren", which adds sounds of ocean waves, and other lush sounds of sources not so easily identified, is arguably the most interesting track arrangementwise

, and the flowing but arpeggio guitar playing is emotionally suggestive, not directly harrowing, but certainly somewhat distressing

. But still very enjoyable, as is the album as a whole

. I imagine that the sound philosophy of the album is somewhat similar to the 80's ECM jazz recordings, of which many also indeed were recorded in Rainbow Studios - panoramic, atmospheric, lush and reverb-laden. Don't get me wrong, first of all I really enjoy this sound

, and of course it is not fair to say that about all ECM/Rainbow Studios recordings, perhaps there wasn't ever such a defined and common sound philosophy. But if you are familiar with the output of the ECM label, I guess you understand what I mean.
To sum it up: I'm not particularly into listening to solo acoustic guitar music, so I can't name drop any really relevant comparisons. I have heard some of Leo Kottke's playing, but he seems more folky, and I guess fellow Norwegian guitar player Knut Reiersrud is more bluesy. But I can say that this is an album I thoroughly enjoyed listening to, and one I will revisit, for sure. The compositions sounds rather "contemporary", are very melodic and easy to get into. Obviously Espen Jørgensen is both a very accomplished guitar player and a fine composer of instrumentals.
Match result: Metronomicon Audio 3 (




) - Jester Records 5 (





)
Next match
Next head-to-head meeting is the label sampler 4.0 from Metronomicon Audio which is up against the When release Trippy Happy from Jester Records.
Copyright © 2012 Knut Tore Breivik