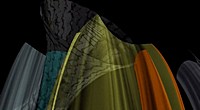 Germany - Full Moon 222 - 10/08/14

Markus Mehr
Gymnasium/Swarms
Hidden Shoal Recordings

"Gymnasium/Swarms" is the first single off Markus Mehr's album, Binary Rooms (due out15th October). Binary Rooms (said by his label to be '...his most challenging and engaging to date') will be Mehr's fifth studio album, following a fine, no, rather outstanding line of albums: Lava (2010), plus his 'triptych' troika of albums, In (2012), On (2012), and Off (2013): all records released by the excellent label Hidden Shoal.

Mehr signed to the Australian label Hidden Shoal in 2010. Before that Mehr played guitar (and was a songwriter) in a German new wave band called The Unemployed Ministers (from 1989-1997). He then (from 2001 on) turned to his 'solo' project under the moniker Aroma (releasing three albums over the year span 2001-2006). But then, from 2008-09 he started to record and release recordings under his own name. Mehr had become a full-blooded electronic composer and sound wiz-artist, who is exploring the magic and spellbinding mysticism of ambient-drone landscapes/soundscapes. "Gymnasium/Swarms" is one of those dark, mystic compositions. It is a track close to the nerve, or core of what Mehr's up to music-wise. The track is loaded with frantic, twisted and bent moods. "Gymnasium/Swarms" is some sort of an electronic noise frenzy. It is creeping upon you, being both scaring and appealing. It is for sure a high-strung track.

Markus Mehr operates in a state of '...blissful wanderlust', according to the site Tome to the Weather Machine. They continue describing some of his works (the album Lava in particular) '...completely engrossing, engaging and all together reliable album full of the most powerful ambient-drone tracks this year'. Mehr challenges, according to Hidden Shoal '...notions of personal space, juxtaposing the human against the industrial, the gentle and intimate against the jolting and harsh.' Mehr often collaborates with visual artist Stefanie Sixt, and the two of them have also created, or worked together on a number of audio-visual sound-art installations. The coming First Life is the score to a theatrical production and the pair have also made a entrancing video for "Gymnasium/Swarms". Go check it out.

Copyright © 2014 Håvard Oppøyen

You may also want to check out our Markus Mehr articles/reviews: Binary Rooms, Hubble, In the Palm of Your Hand - The Remix EP, In, Lava, Off, On, Re-Directed.
If you wish to print this review, we have a printer friendly version.
We also have 138 other articles/reviews of artists from Germany in our archive: