England - Full Moon 228 - 04/04/15

John Renbourn
8 August 1944 - 26 March 2015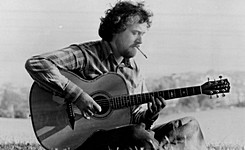 Acoustic guitarist extraordinaire and reformer of the British folk scene John Renbourn was found dead in his home after he didn't show up at a gig in Glasgow last week. He seemed to have suffered from a heart attack. John was a classically trained guitarist from an early age and developed a unique finger picking style. He was also introduced to medieval music early on, played skiffle and rhythm'n'blues before he started to visit the folk clubs of London that tolerated guitar players. He met Scottish guitarist Bert Jansch at Les Cousins in Soho, and they developed a special duet style labelled "folk baroque". They recorded a great album together, Bert And John, in 1966. By then John had already released his first solo album and also recorded with blues and gospel singer Dorris Henderson. He also played with traditional folk singer Jacqui McShee. Together with her, Bert, drummer Terry Cox and bassist Danny Thompson, he formed Pentangle in 1967 that instantly was a success. The band is often labelled folk-rock, but folk-blues-jazz is probably closer to the truth, with a bit of rock and medieval thrown in for good measure. The band kept going with several ups and downs and six albums until 1973. There have been several reunions of Pentangle afterwards, some with and some without John. Meanwhile he pursued his solo career as well, that he kept going for the rest of his life, along with duo projects, brief band projects and guitar workshops all over Europe and several outside as well. He collaborated with American guitarist Stefan Grossman, Led Zeppelin bass and keyboard player John Paul Jones and Robin Williamson of The Incredible String Band to name but three. He was touring with old folkie Wizz Jones that he had initially met in the early 1960s when he passed away.
The summer slips below the surface
Floating slowly in clear water
Drinking sunlight through the fisheye
See the moon broken
Moonflowers bright with people walking
Drinking wine and eating fruit and laughing
Heart and soul life passes one to another
Death alone walks with no one to converse with
Well I had a dream of love
All night long
I thought I heard a siren sing
A song of love
(Well) I had a dream of love
All night long
(Well) I thought I heard a siren sing
A song of love
Now does this river belong to anybody I know?
You know I fished just a little to ease my body and soul
Just sit and dream on the river bank
Let my mind relax and let my consciousness be easy and free.
"Pentangling" off Pentangle's debut album Pentangle 1968.
Copyright © 2015 JP