US - Oregon - Full Moon 233 - 08/29/15

Heather Woods Broderick
an interview with...


Happy to be playing music" - an interview with HWB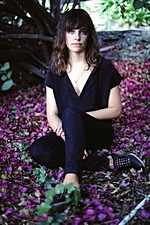 Heather Woods Broderick has recorded and toured with the likes of Sharon Van Etten, Efterklang, Laura Gibson and Alela Diane, to name just a few, but now the American singer, songwriter and multi-instrumentalist is captivating audiences all on her own with her fantastic second solo album Glider [released on July 10th by Beacon Sound/Western Vinyl]. Offering a broad spectrum of emotions and sounds, she still manages to keep things intimate when she touches on folk pop with the wonderfully washed-out opener "Up In The Pine", connects with her inner Stevie Nicks on the impeccable 70s-infused pop song "Mama Shelter" and mixes dream pop and flashes of shoegaze rock on the powerful "Wyoming", before a jazzy trumpet is bringing the album to a heart-wrenching close on "All For A Love". The unifying factor is an underlying soulful melancholy that crops up in a lot of these songs and a somewhat otherworldly, reverb-laden atmosphere, which works just perfect with Heather's soft, angelic voice (quite fittingly described elsewhere as a "loud whisper") and her reflective lyrics. Apparently, her wunderkind brother Peter isn't the only genius in the Broderick family! We caught up with Heather on the first day of her European Spring tour with Sharon Van Etten.
Luna Kafé: Where are you while you answer these questions and what is the vibe like?
Heather Woods Broderick: 'I'm in a Sprinter van driving from Amsterdam to Liege. It's calm and quiet in here, and the weather is nice outside.'
LK: What's it like to be Heather Woods Broderick in the year 2015 (and what's the most striking difference to, say, 2009, when you released your first solo album, From The Ground)?
HWB: 'Some things are very different and some very similar. Shorty after I put From The Ground out in 2009 I moved to Denmark to join Efterklang. I spent the better part of a few years touring around in a Sprinter van with them. I've moved three times since then, and have been playing with different people, but I'm still on tour. I definitely feel older now! Ha! Long drives and all the sitting hurts more than it did then, but I'm happy to be playing music.'
LK: One reviewer of From The Ground called you a "serial multi-tasker". Is that a valid way to describe you?
HWB: 'Yes, I'd say that I am a multi-tasker. In a musical sense, I've always played multiple instruments in bands and with my solo project. In general I'd say I'm a pretty organized person, so able to work on several things at once.'
LK: Obviously the kids I grew up with were less musically gifted than you, but a lot of them initially picked up instruments only because their parents thought it was a good idea, not because the kids were driven to do it. You on the other hand seemed to have embraced the idea to learn an instrument at a very early age. Is that just the result of being surrounded by music from an early age in your family or what inspired that move?
HWB: 'Both of my parents are musicians, and music was a huge part of my childhood. My parents always listened to records after dinner, and played their instruments in the house as well. When I was 8, my family moved from Maine to Oregon. Shortly after, I asked my parents if I could take piano lessons. There wasn't much to do in the small town we lived in, but we were fortunate enough to have a local music teacher who was very passionate about her role in the community, teaching private lessons of all kinds, and also instructing the school band program. I got involved in both. So, I think the combination of coming from a musical background, and music lessons being one of the only extracurricular things to do led to me devoting a lot of time playing from a fairly early age.'
LK: You actually play quite a few instruments. Did you just like the challenge of doing new things or how did it come about that you are now pretty much a one-woman pocket orchestra?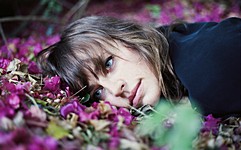 HWB: 'I do like the challenge of learning how to do new things. Flute was my school band instrument. I didn't really play it much after high school until I began playing in Efterklang. I studied piano all through school. When I first went to college, I brought a nylon string guitar with me to have something to play, because I knew I wouldn't be able to have a piano in my dorm room. It wasn't until I began playing in my first band that I picked up several other instruments. Most of them I don't play well, or at all anymore. I took up cello in my early twenties and took that a little more seriously, taking lessons for a couple years. I'd like to get back into practicing that more again.'
LK: Learning to play a number of instruments is one thing, sticking with it and eventually considering music as a career is another. How and when did you decide that you wanted to follow the path your on now?
HWB: 'It wasn't really a career decision. I had been playing in several bands in Portland, OR when Efterklang asked me to move to Denmark and tour with them. I think I was 24 or 25 when that happened, and was really excited about the idea of getting out of the United States. I was bored with school and working different jobs. One touring opportunity has just let to another for me, and has ended up keeping me on the road for most of the last 7 years.'
LK: You've been planning to make Glider for quite some time. Is it only a blessing (because of the added experiences) or a bit of a curse (it must have been frustrating at times to put the album on the backburner again and again?) that it took you so long?
HWB: 'With the exception of the song "Glider" which I wrote while living in Berlin, I began writing the material for the record when I moved to Brooklyn in 2011. I haven't had too much luck with writing on the road, so I was writing and recording demos every chance I got between tours. With such a busy travel schedule, I guess it took me a couple of years to collect the material. All the experiences I've had since From The Ground came out in 2009 have surely influenced the content of the songs. Some of those experiences are directly referenced in lyrics, and others might be expressed in a musical way. I've been sitting on the finished record for over a year now, so I'll be happy to finally share it. I've also really enjoyed the other projects that I've been a part of, so I don't know that I've necessarily felt a lot of frustration. I knew I'd write another record when I felt like it, and put it out when the timing felt right.'
LK: I guess you toured with a whole bunch of people before you made From The Ground as well. Is that just the way things turned out or did you feel you needed that time to learn and gain confidence before "going solo"?
HWB: 'I don't necessarily feel like I'm now "going solo" as this second record is coming out. I enjoy playing all types of music with different people, and I see my solo records as one of those projects. I still plan on collaborating and playing music with other musicians moving forward.'
LK: When you think of your solo records, do you see them more as projects, as closed entities, or do you have a long-term - for a lack of a better expression - "HWB career plan" in the back of your mind, with a kind of red thread running through all your albums past, present and future?
HWB: 'I see my records as projects. I know I'll make more, but I don't know when or what they'll sound like yet.'
LK: Is there anything specific you look for when it comes to writing songs and making records?
HWB: 'Not particularly. I do find that when I listen back to songs I've written I find that they are often reflections of experiences I've had with friends, family and loved ones.'
LK: On From The Ground you very beautifully juxtaposed some challenging "mood pieces" with traditional, albeit quite dreamy sounding songs, which was a great way to keep the listeners on their toes, to keep them wondering what comes next. Was that kind of the master plan from the get-go, or is that just where the process took you, so to speak?
HWB: 'Actually, the instrumental pieces on From The Ground were originally written to be half of a split 12" with another band. They never finished their half, and in the meantime I'd started writing some songs with words. In the end it seemed like the instrumentals and newer songs with words would make nice collection.'
LK: Can you shed some light on the evolution of Glider?
HWB: 'Yes, I described a bit about the writing process above. When I'd collected enough material to make a record, and found some time to record, I made a plan to work at Type Foundry studio in Portland, OR, and also with my brother Peter Broderick at his home studio, The Sparkle, also in Oregon. I spent 5 days at Type Foundry recording most of the basic tracks. These days were mostly me running around tracking a bunch of stuff, but we also tracked 2 songs live there. I was playing guitar, Peter on drums, and Dave Depper on bass. We did all of the other overdubs, post production, and mixing at Peter's studio.'
LK: What you do consider the most important difference between From The Ground and Glider?
HWB: 'As I mentioned before, From the Ground was more of a collection of songs, not initially intended to be an album that we later compiled. The songs on From The Ground were also my first attempts to writing songs with words. I feel like I learned a lot in that process and in the time between writing for From The Ground and Glider- what I liked, and what I wanted to do differently the next time around. Glider was much more intentional. I set out to write a collection of songs meant to form an album. I recorded demos as I wrote the songs and worked on arrangements, etc., so that when I eventually took the songs into the studio, I knew the sound I'd be going for, etc.'
LK: How would you describe the balance between the music and the lyrics in your songs?
HWB: 'When I write, I usually begin by writing a melody on guitar or piano that I sort of play on repeat for a while. Usually words start coming to me once the melody has sunk in a bit, and from there the two parts help shape each other. I spent a lot more time on the lyrics for Glider than I did for From The Ground, trying to make sure I was saying what I meant to, but I don't feel like that took precedence over the music. I think melody and my love for instrumental arrangements plays a really important role in my songs.'
LK: What is making you the happiest as a musician right now?
HWB: 'Well, music is a practice for me, so I'm excited about sharing this new record with people and the idea of moving on to the next project.'
LK: From The Ground was released on vinyl as well. Just a happy accident because somebody offered it, or was that kind of a big deal for you?
HWB: 'I've always been a big fan of listening to music on vinyl. I like sitting down and listening to a whole record. I really wanted to have From The Ground pressed on vinyl. Since Preservation was only releasing in CD and digital format, they worked with Digitalis to press the vinyl. I believe they had done that in the past with another release as well. Western Vinyl is releasing Glider, and will be releasing it on CD, LP and digital formats.'
LK: The predictable last question: Glider is out in July - what can we expect from you after that?
HWB: 'I hope to do some touring in support of Glider, but I'm not sure yet what that will look like. I'd like to start recording more music and be on the road a little less, so hopefully I'll have many more records to come.'
Copyright © 2015 Carsten Wohlfeld
Copyright © photo Dusdin Condren