Sweden - Full Moon 37 - 10/24/99

Lars Hollmer
Blå, Oslo, September 30th 1999


A night on the town for old-timers

Compared to the size of Oslo, there are lots of possibilities for those who want to explore the gig and nightlife scene in the Norwegian capital. Here's an event of the autumn of 1999: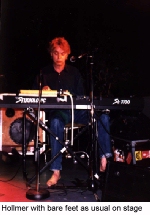 Lars Hollmer is an eccentric Swede, a keyboard and accordion player that started the legendary (sort of) band Samla Mammas Manna more than 30 years ago. Samla is still going as strong as ever, believe it or not, with a new album earlier this year. Lars also pursues a solo career that started in the early 80s. This night he had brought along two other Swedes, the Cuban violin player Santiago Jiminez and Belgian Michel Berckmans (bassoon and oboe). The latter used to play with Lars in von Samla, a Samla Mammas successor in the 80s, but is probably best known from his work in Univers Zero, Belgium's dark rock-chamber orchestra gem. Anyway, this was a relatively new "group" and a kind of experiment, Lars told us. But the musicians involved are as experienced as can be, and to me most of the time they sounded as they might have played together for ages. When they failed a few times, it merely added more charm and warmth to the music.
The music of Lars Hollmer is not easy to pin down. It includes traces of the folk music of Sweden and lots of other countries, rock, pop, jazz, experimental, improvised, cabaret - in a Kurt Weill kind of way, film - Nino Rota (of Fellini and The Godfather theme fame) is not too far away, circus music etc. This mix includes slow melancholy, humour, ominous omens, breathtaking tempo and sounds like no one else. It's pure Lars Hollmer music. This evening most songs were taken from Lars' latest solo offering Andetag, released in 1997 or 98. I remember instrumentals like Stråk, Now, Cirkus I and II, Försök, Aska, Zwei Kneipe, Videpiano. I believe they only played two other songs: the old and very appropriate Höstvisa (Autumn Song) and Kvar Om Igjen. The latter is a slow and beautiful number with a Robert Wyatt feel. One instrumental was introduced as Eyeliner, an unknown Hollmer title to me, though the music was very familiar. Maybe only the title is new? Most of the songs have a certain film quality. They are almost small movies by themselves.
The musicians appreciated each other's company and sat smiling when they did not play and enjoyed what the others performed. The audience was also attentive and showed their appreciation in many ways. Some tried improvised dances, while beer was spilled. I guess the band played everything they had rehearsed, at the end Santiago played some Latin American (?) violin piece on his own. I've witnessed Lars Hollmer live a few times earlier. This occasion was probably not the best and certainly not as funny as when he plays along with his old buddies of Samla Mammas Manna. But there was a certain kind of good-time magic in the air. If you enjoy music outside the commercial mainstream, do not hesitate to give him or Samla Mammas a chance if ever you stumble across one of their albums or gigs.
Copyright © 1999 JP