US - California - Full Moon 77 - 01/18/03

Rachel Gordon
an interview with ...


The next big thing

You might have heard of this young lady from California, but once you've heard just the first few bars of "Where Are You Tonight", the opening track from The Coming Of Spring, her debut album on the German Sounds of Subterrania label, you'll fall in love with her music, that's for sure. Especially since this awesome power pop song is just one of the many highlights of the album, recorded with many of the best musicians from the San Diego area. The record covers everything between traditional folk rock, heartfelt rock ballads and the aforementioned anthemic power pop. And even better than the admirable style hopping is Rachael's gorgeous voice! Before she will tour Europe in May, she found the time to answer someof our questions.

Luna Kafé: I hate to start with this, but since I'm probably not the only one who knows very little about you - can you just quickly introduce yourself and tell us what came before The Coming Of Spring?
Rachel: "I'm from San Diego actually, and I was in a band called the Sleazybeats, that put out a song ("Phil Spector's Birthday") on a compilation album a few years ago, and I've done an EP for Snap Records, plus I've got songs on a few compilations as well. I've only performed live in San Diego and Los Angeles, so I'm looking forward to touring."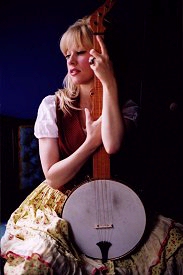 Luna Kafé: What I like most about the album is the variety. Was that sort of a masterplan from the start, to have a really eclectic mix or did it just turn out that way?
Rachel: "The album was recorded over the course of 2 years on and off, with a changing cast of players and studios, so the surprise is that it's as cohesive as it is. The song's were custom written for me for the most part, so I think in that respect I was blessed to work with some great songwriters. I let them know what I was looking for and all of them came up with some great material for me. My influences are all over the place, and I think that's what you're hearing - I like everything from Fairport Convention to Heart, Marianne Faithful to somebody else, so the fact that my listening tastes are eclectic, is what you're hearing, and it was planned - there is only one outtake from the session, a take of "Original Tangent", and that was simply recorded too late for inclusion."
Luna Kafé: Where does the desire to change and surprise the listener with every new track come from? I guess it's pretty much impossible to pinpoint your sound, which can be a blessing and a curse (marketing-wise) as well?!
Rachel: "I love music and I love to push boundaries. I grew up in a musical family, and it's what I've wanted to do since I was little. My father played in bands, and I've had a lot of musician friends my whole life."
Luna Kafé: What is the funniest description of your music anybody has come up with yet?
Rachel: "Well, keep in mind that I hated it, but the San Diego Union Tribune wrote that I was a 'Nancy Sinatra wannabe' in a review. At least they ran a good picture. They obviously didn't listen to the music very closely. Most people get it."
Luna Kafé: Do you ever think about the audience while recording?
Rachel: "I think of some songs, as in how they will work live and I remember thinking "Drop By and Stay" would be a great opening song for a show. We'll probably do more of the upbeat danceable stuff and so on, but as for song selection, no. This is my musical statement, and we wouldn't pander, but I hope an audience does like our music!"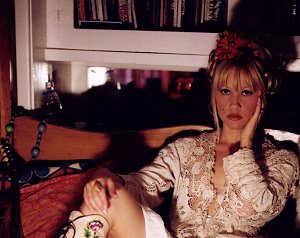 Luna Kafé: How much impact did the musicians you worked with have on the album? In other words: How much in charge are you during the recording process or do you really like the collaborative element?
Rachel: "I was completely in charge and the ultimate decisions were mine, but Bart Mendoza got everything together and ran the sessions, as well as playing on the album. It was collaborative in that I took ideas, but I had a vision of what I wanted, which is what really held up the recording initially. The vocal arrangements, instrumentation, song selection, musicians, arrangements, even the tone on the guitar solos, was all me. But then again I really couldn't have done it without Bart Mike Kamoo, AJ (Croce) and Hector (Penalosa) in particular. The thing is the musicians are all my friends and they helped me put together what I think is a great album. I can't thank them enough. It wasn't easy at times, but they came through and then some."
Luna Kafé: I guess the list of people you worked with on this album is quite long and very impressive. Did it all just come together naturally or were there certain people you wanted to work with, but never thought you'd actually get the chance to?
Rachel: "It was natural. San Diego's "musician scene" is very tight knit so everybody knows everybody. After the Sleazybeats, I did a few live dates with Bart as an acoustic duo, and he produced my "Very Idea" EP for Snap. At the time I was dating Victor Penalosa (Melanies/Fuzztones) and knew his brother Hector, and had been friends with Ray since a decade before when he was with the Tell Tale Hearts. That group of people convened at Mike's studio and the result was that 5 song EP and a couple of unfinished outtakes, including "Temptation Eyes". It grew from there. And there are a bunch of people that didn't make the finished project. At one point both Paul Collins and Jack Lee were going to be involved, so was Morgan Young...and a lot others. The main thing I want people to know, while having fun, is that I'm really serious about music. You asked earlier how much in control I was of the album, and it's important to me that people know that I'm not just a girl singer, I put a lot of work into the whole package."
Luna Kafé: Any other potential collaborators still on the "wish list"?
Rachel: "Hmmm. John Waite for a start, but there's way too many..."
Luna Kafé: What else apart from the European tour have you lined up for the (immediate) future?
Rachel: "I'll be recording some more soon, but my priority for the forseeable future will be touring. I haven'y played enough in California, and I hope to do a little television, but we'll see. There seems to be a lot of interest in thealbum, so hopefully the skies the limit."
Luna Kafé: I suppose you've been compared to just about everybody from Penelope Houston to Natalie Merchant and The Go-Gos. Has it reached the point yet, were those comparisons annoy you, or do you still find it refreshing or at least okay to be linked to some people who probably have been inspirational along the way?
Rachel: "Not yet - and you forgot Blondie: -) it's an honor to have someone compare me to Marianne Faithful or Debbie Harry, or any of the great musicians that came before me."
Luna Kafé: Another name that comes to mind is Mary Lou Lord, because she obviously also likes to mix originals, new songs written for her and a great selection of covers. How do you find a balance or do you not care where a song comes from as long as it's good?
Rachel: "That's exactly right. And I'm lucky enough to be close friends with some of the best songwriters in California. Having members of the Zero's, Shambles, & the Tell Tales Hearts as well as AJ Croce, Chris Von Snierden and others on your team can only be a good thing. I prefer to play the custom songs and my own originals, because they're "mine" and because I'm not a covers or retro act. That said, I like to mix in a few covers, simply because it's fun."
Luna Kafé: Expecially with the covers - did you chose the songs simply because you liked the tunes or was it sort of a tribute to the band/writers as well? I guess "Come And Get It" is not necessarily the most popular choice when it comes to covering Paul McCartney...
Rachel: "And that was one of the toughest songs to get right in the studio! It's the song, more than the writer. And at least I didn't cover "Coming Up"."
Copyright © 2003 Carsten Wohlfeld