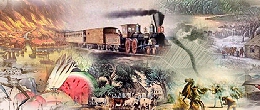 US - California - Full Moon 92 - 04/05/04

Brian Wilson
Smile

The stakes tonight could not be higher. The term 'long-awaited' doesn't really do justice to the crowd's levels of anticipation, even in an era when 3 years is an acceptable amount of time to wait between albums for supposed 'big name' artists. Sat in our seats at the RFH (oh yes, it's very refined), you feel transported back to a time when pop music really did move at the sort of speed it's supposed to - annual revolutions across the board, expectations of a 1960s audience expanding in proportion to the pioneer ambition of the counter-culture's leading lights, each spurred on by the perceived taunts of rival daredevils.
Chief among those participating in races for the prize of audio nirvana - happily before 'pop' turned into 'rock' and everything shifted from day-glo possibility into austere authenticity - were The Beatles and The Beach Boys. Between them they managed to take the grand majesty of Phil Spector and the epic longing of teeny-bop rock n roll to new levels of sophistication, they're symphonic abilities equally powerful across singles (still the pop art-form to conquer) and the newly emergent medium - the pop album. In a heady 2 year burst of one-up-man-ship, Rubber Soul begat Pet Sounds begat Sgt Pepper, and in turn Today begat Revolver begat...Smile!
Except Smile! never happened. Like Icarus flying too near the Sun, Brian Wilson - tender, tortured genius behind the Beach Boys - was left indelibly burnt by the experience of trying to follow his 1966 masterpiece, Pet Sounds. His band wanted free 'n' easy and undemanding surf hits, his drug habits left him wallowing in his marijuana tent and sand pit (both set up in his home), and being labelled a genius at the age of 24 off the back of "Good Vibrations", "Heroes & Villains" and the expectations around the imminent release of Smile! all resulted in an epic loss of nerve. He went to bed for two years, struggled with addiction and madness and only really emerged from exile a few years ago. The sight of him performing Pet Sounds in 2002 - an album never previously toured - was one of the most moving and redemptive moments in pop history. He still wouldn't even talk about Smile!, though.

This year, again with a supporting band based around The Wondermints, he has surprised everyone by revisiting the work that he left unfinished 38 years ago. A record only heard piecemeal - remnants of the Smile! sessions were used by the remaining Beach Boys to pad out (beautifully) future releases. Tonight, though for the first time, we get to hear the album in full, as intended. The record that would have seen off The Beatles and crowned the Beach Boys as kings of 60s psychedelia - and, boy, is it good...

Beginning with "Our Prayer", a wordless hymn that sets the tone for what Brian called his 'teenage symphony to God', we then segue into the epic, original version of "Heroes & Villains", whose haunting theme is then continued in the hitherto unreleased "Do You Like Worms?" The arrangements are breath-taking, utilising the full ten-piece band (plus strings and horns) across all manner of instruments. Psychedelic whimsy like "Wonderful" and "Vegetables" use harpsichord, vibes - hell even the sound of carrots being crunched in rhythm. It's complex, dark, and sometimes scary (especially on "Cabinessence", or "Fire"), and it all feels like it's going by too fast. All this expectation and only one chance to take everything in. These are less songs and more the constituent parts of a symphony in three movements. Themes leave and return, like when the keynote "Surf's Up" coda appears earlier as "Child Is The Father Of The Man". Twenty minutes in and it's nothing short of jaw-dropping: we're all agog not only at how it all fits together, but also at how Wilson composed all this in the first place. Concept and execution perfectly realised, it's something you don't want to end. After the "Elements Suite" (the afore-mentioned "Fire", "Wind Chimes", "Cool Cool Water"), though, you know it must. "Good Vibrations" closes things, theremin and all, and you're left with genuine questions about what would have happened were Smile! released as planned. All counter-factual nonsense, of course, but Sgt Pepper may well have seemed a little less radical by comparison. In place of the Beatles' parochial characters and (let's be honest) ill-fitting concept, Smile! attempts nothing less than a history of America and its music. Brian's music is certainly more 'out-there', but still maintains that effortless Beach Boys pop sensibility - it seems unlikely that a public that took so easily to "A Day In The Life" wouldn't have been bowled over by "Surf's Up". If 1967 hadn't belonged so unquestionably to the Beatles, where would the 60s taken us then?
Copyright © 2004 James Caig

Brian Wilson pic © Patrick Fraser