US - Ohio - Full Moon 181 - 06/15/11

Pere Ubu
Performs The Annotated Modern Dance
John Dee, Oslo, 19.05.2011

The news that Pere Ubu was coming to town along with the band's monster debut album from early 1978 in its entirety was met with both anticipation and hesitation. Such happenings when bands and artists perform their classic albums can be both a well deserved hommage, a nice nostalgic trip or a tragic indication that the creative well has run dry.

David Thomas, the front man of Ubu and, for a long time, the only remaining original member of the band, is an old hero of ours. I've had close encounters with him on a few occasions earlier, both as part of Ubu and other solo/band projects. Honestly, he is the greatest stage personality I've ever witnessed. His showmanship is unquestionable and hilarious. Even if you don't appreciate his high pitched nasal voice and avant-garage music, originally based on punk energy and ideology and the most perverted blues this side of Captain Beefheart, you'd be overwhelmed by his presence and surrealistic small- and bigtalk in between the songs. I fondly remember David strolling round in circles on the floor in front of the stage with his band The Wooden Birds, with a soaking wet shirt and jacket blowing a tripartite horn one evening in the winter of 1987, a few months before the reunion of Ubu... Ah, those where the days! You'll get an indication of what he was capable of in the 1980s if you listen to the long out of print album Winter Comes Home (recorded live in 1982), recently made available as downloads, where he is backed only by percussion and bassoon/oboe/saxes. It's a hot candidate for my greatest live album ever, and it surely is the greatest surrealistic-humorous live album there is.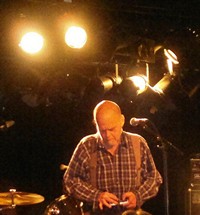 2011, however, is a different matter. David's stomach has decreased to about half its size since last I met him, in 1996. He seemed to have difficulties to walk and generally looked like an old and ill man. Even worse, he seemed like a very bitter old man, being on the verge of commercial success on several occasions for the last thirtysomething years, but never quite gaining what he deserved. He stood in front of the microphone with eyes almost shut, or staggering to and fro a chair during instrumental breaks for the entire concert. He still told funny anecdotes in between the songs, of course, but it seemed more restrained than on earlier occasions and mainly read from his folder of manuscripts. The same goes for the lyrics of the songs. He only was up to par during the introduction of "Life Stinks", a song with a message he really was able to relate to. It even made his fellow musicians laugh.
But that was in the second half of the gig. The band started with the early Ubu singles, released prior to the album we'd come to witness. The debut "30 Seconds Over Tokyo" wasn't bad, the second classic single "Final Solution" even better. Still, it didn't feel right to shout 'I don't need a cure. Don't need a cure. Don't need a cure. Need a final solution!' along to Mr. Thomas. His introduction to "My Dark Ages (I Don't Get Around)", the B-side of the third single, was a goodie. When the band had finished recording the song, they thought it sounded just like The Beach Boys. They dreamt of smuggling the tape into Brian Wilson's room where he sat and listened to outtakes, putting on Pa Ubu's contribution and being definite that it had to make it to the next Beach Boys' album. Well, you have to listen very carefully and add quite a lot of imagination to find any great similarities between the song of the gloomy industrial heroes of Cleveland, Ohio and songs of the surf ditto of Hawthorne, Los Angeles, California.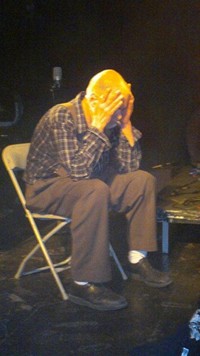 The troubles really started with The Modern Dance album itself. It opens with "Non-Alignment Pact", one of the most powerful songs of Pere Ubu's entire career, filled with frustration and punk energy. The 2011 live version, on the other hand, missed both life and blood, the biggest disappointment of the evening. The following songs off the album were a little better, but couldn't match the original recordings either. After "Chinese Radiation", David announced a five minutes break due to technical problems and hobbled off stage. Well, it didn't last long and they were back with the aforementioned "Life Stinks". It was followed by a maybe even better "Real World", but that was about it. The remaining songs from the album were back to the level before the break. "Sentimental Journey" was another big disappointment that couldn't compete with the anarchic album version. With only some distant bottle-breaking sounds on hard disc and no sign of the real thing... Still, the band returned for quite a few encores and made their way into album no. two Dub Housing, including the unique "Caligari's Mirror" ('Hey, hey drunken sailor...'). But like the songs before them, they didn't possess their original power.
The band that backed St. Thomas (Robert Wheeler - keyboards and theremin, Keith Moliné - guitar, Michele Temple - bass and Steve Mehlman - drums) was competent enough, but all of them must have had a less than satisfactory day at work. The band's bus has been held back for thorough customs inspection at the border between Sweden and Norway and arrived in Oslo very late in the afternoon. Maybe they were more tired than usual; maybe David Thomas had a particularly bad hair day. A couple I talked with after the show muttered something about this being the funeral of the once unique band. I wouldn't go that far. Nevertheless, if Pa Ubu returns next year to annotate Dub Housing, I guess I'll stay home and play the classic album instead.
Copyright © 2011 JP