US - California - Full Moon 225 - 01/05/15

Jason Lytle
House Show - A Live Recording, May 17, 2014
Jason Lytle / self-released

In December 2009 Jason Lytle released the seven-song long Merry X-Mas 2009 digitally (via Bandcamp, or his own site). This December he did almost the same, except that House Show holds more than 20 songs (including some small 'chats'). Lytle, once fronting the eminent Grandaddy, has dropped this live album as an early (or premature) Christmas gift. The songs are taken from a 'house show' (in Portland, Oregon) from May this year, and it sees Lytle perform Grandaddy classics alongside some of his solo work, as well as presenting a cover version of a Dwight Yoakam song ("A Thousand Miles from Nowhere"). Which I guess could be a description of (or the title of) 'the state of mind', or the feeling Lytle had while staying in his far-off cabin in Montana. Far away from his hometown of Modesto, in Sunny California. Dreaming of California. Not California dreamin'. Anyway, he now resides in Portland, where the gig took place.

When revealing this release, Lytle wrote (on Facebook): 'Hello people... I would like to make available a new recording of a house show I did on the 17th of May 2014. I've wanted to do a living room show for a while. This one was a welcome party of sorts as my first show in a new hometown. My friend Stephan Bayley who hosted the show also recorded and engineered it and it turned well - so, what the hell. The use of his Yamaha grand piano, some samples/loops and my acoustic guitar made it (actually) fun for me! I debated as to whether or not to edit out the in-between song chatter - till eventually I decided to leave it all in... I think you get a better sense of the pleasant atmosphere in the room (and my wine buzz) by keeping it raw and unedited. Enjoy.' The atmosphere sounds pleasant and friendly for sure. The mood mode or the aura of the show is the one of pleasant melancholy and 'sugared bitterness', of course. Like Lytle says: 'I'm playing a bunch of bummer songs.' But, he puts in (like he adds himself) 'a few positive ones'. Just for the balance. Subtle differences and approaches, and some blurred emotions. It is all about sentiments in motion .

Where Merry X-Mas 2009 came between his two first solo albums, Yours Truly, The Commuter (Anti, 2009) and Dept. of Disappearance (Anti, 2012), House Show... comes some 2 years after Lytle's last solo platter. House Show... holds a few track from both his solo albums; "I Am Lost (And The Moment Cannot Last)", "This Song Is The Mute Button", and "Here For Good" off Yours Truly, The Commuter, and "Get Up And Go" plus "Willow Wand Willow Wand" off Dept. of Disappearance. Then there are several goodies off Grandaddy's 'magnum opus', The Sophtware Slump, namely this lovely troika of superb songs: "Jed's Other Poem (Beautiful Ground)", "So You'll Aim Toward The Sky", and "Jed The Humanoid". Here's even a couple of songs from the very good Sumday album: the brilliant single "El Caminos In The West", and the sad and extremely lovely "Saddest Vacant Lot In All The World", plus one track from Grandaddy's swan-song album, Just Like the Fambly Cat (2006): "This Is How It Always Starts".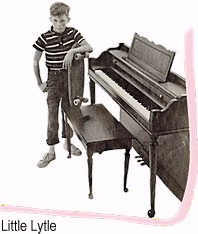 Jason Lytle and (especially) his Grandaddy have always been inspired by The Beatles, Neil Young and Electric Light Orchestra. Yes, even MOR/FM pop/rock acts like The Alan Parsons Project warmed Lytle's heart back in the formative years (Grandaddy once did a 'version' of the 1934 penned hail-the-winter song "Winter Wonderland", re-treated and re-dressed by Grandaddy as "Alan Parsons in a Winter Wonderland"), and further on. There is even a hint (or several) of Simon and Garfunkel within Jason Lytle's breeze-calm pop music. Lytle stated some years back (in 2003): 'I'm completely in tune with E.L.O. and Jeff Lynne... I know that guy like the back of my hand.' (I guess Lytle is eagerly looking forward to a new Lynne album...). However, mind you, Grandaddy were (and Lytle is) in touch with contemporaries, such as The Flaming Lips and Elliot Smith. I guess this could be described through the pop grandness, the twisted and bent psychedelic or classic pop tint, and the sad-flavoured melodies and story-telling hooking you in. Making you an easy catch, if you are in for this flavour. Lytle chats, and sings his songs, either if he is playing the guitar or the grand piano (plus some few 'taped' drum-machine, and some occasional 'samples'). I start to think that this recording might end up to be too personal and rather intimate. Like you needed to be there - present at the show back in May - to like what this album presents. But... then again, Lytle does his little-big songs so low-key, simple and effortless, but his performance is loaded with humour and warmth. Yes, he makes you feel like a part of the audience present just by listening. When he's about to start "This Is How It Always Starts", he talks about Charlie Chaplin's "Smile" (from the soundtrack for his 1936 movie, Modern Times), and starts playing "Smile" before turning into his own song. Now and again he drops back into "Smile"... What I like the best, is the Jed-songs from The Sophtware Slump, "I Am Lost (And The Moment Cannot Last)", "Willow Wand...", the Yoakam song, and one of Lytle's favourite b-sides from the Grandaddy days: "What Can't Be Erased" (it was one of the 'flipside' extra tracks for "The Crystal Lake" CD single, and was later included on the deluxe version of Sophtware Slump). Great. Neat. I guess this is a record 'rigged' by the lyrics from "El Caminos...": 'For peace of mind and happiness...'. This is a 'blue moods' album. Approved by Jason the Humanoid. He treads on beautiful ground with his delicate songs.
When presenting/launching this live 'album', Lytle ended his release text with: 'Bring on 2015 & take air!'. A happy new year to you, Jason Lytle! I'd like to end this review with Jason's words: 'Listen to the record, and then purchase it, if you so wish.'
Copyright © 2015 H. Oppøyen